Does your home have some unwanted visitors?
Don't let pests push you around!
Call Lane Pest Control Today!
Work with friendly, licensed professionals.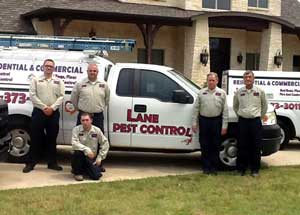 There's nothing worse than an uninvited guest, especially when that guest is a pest. If you're facing pest problems, give us a call for reliable pest control you can count on. From ants and spiders to scorpions and rodents, we do it all!
Proudly serving the areas of Tyler, Bullard, Palestine and the surrounding areas, our goal has always been to provide you with exceptional service for all of your pest control needs. Our friendly technicians are fully licensed, so you'll always know you're in good hands.
Call Lane Pest Control for prompt, professional pest control service, today!
Pest Control Services
Lane Pest Control offers pest control services for residential and commercial properties. Our friendly technicians are licensed,insured and trained to handle any pest problem. We offer affordable rates on all services, so you can keep your home or office pest-free without spending a fortune.
Green Insect Repellant

Now offering a safe and green way to repel insects at the door! Fasst Door Seals provide a physical barrier at the bottom of entry and garage doors to help stop pests at a major point of entry. Fasst Seal is insecticide free and proven to repeal crickets, bed bugs, American and german cockroaches, ants and more!
Fasst Seal are made in the USA, non-toxic, pleasant smelling and will last for up to four months.
We provide treatments for your entire home or business. Every treatment includes an inspection and treatment inside and out.
Keep the mosquitoes out of your backyard party! Start monthly treatments and enjoy your yard again.
Don't let termites gain a foothold in your home or office. We provide pre-treatments, termite treatments and WDI reports.
Bee Control
Need to safely remove bees? We work with bee keepers to remove bees to a new location.
Certified bedbug professionals. Learn more about bedbugs at Bedbug Central.
Our fire ant service is safe for your family and comes with a one year warranty.
Wipe out pests, not your bank account!
Quarterly treatments start at $49.95 plus tax.